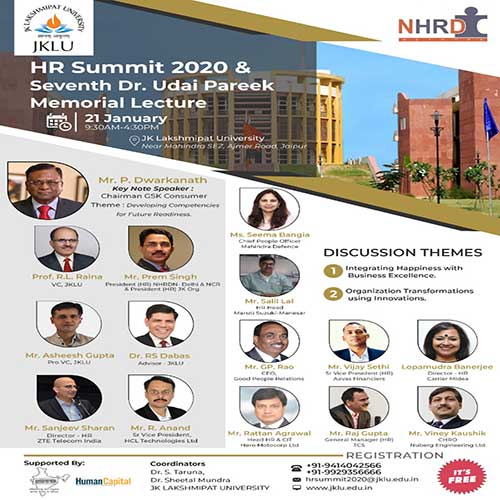 JKLU HR Summit 2020 andSeventh Dr. UdaiPareek Memorial Lecture
Description:
Description – JKLU, in association with National HRD Network,is organizing theJKLU HR Summit 2020 and Seventh Dr. UdaiPareek Memorial Lecture,to be held at JK Lakshmipat University, Jaipur, on January 21, 2020.
Details:
Dr.UdaiPareek, revered as "The Father of HRD in India", was a former Professor of IIM Ahmedabad, and Founder of NHRDN.Mr. P. Dwarakanath, Chairman of GSK Consumer Healthcare, will deliver the keynote address on 'Developing Competencies for Future Readiness'.
Over 150 Business Leaders, HR Heads, Strategy Planners, Academicians and Thought Leaders are coming togetherfrom different parts of India,to participate in the event, which will also focus on:
Organization Transformations using Innovations' and
'Integrating Happiness with Business Excellence'