Nakshatra(The Astronomy Club)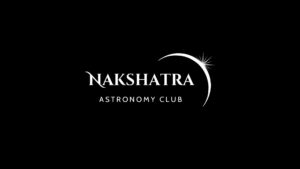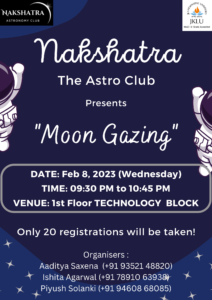 "Nakshatra", the astronomy club was founded in 2023 with the goal of promoting the study of astronomy and providing a community for people with a shared interest in the stars. Our members come from diverse backgrounds but all share a passion for exploring the universe.
Our club is dedicated to exploring the wonders of the universe and promoting the study of astronomy. Whether you are an amateur astronomer or a professional, you are welcome to join us for stargazing sessions, discussions, and workshops.
To develop scientific temper, promote amateur astronomy, and popularise it in the institute.
To bring about interest and awareness in the field of astronomy and space research.
To study astronomical events from physics as well as mythological points of view.
To develop understanding of different aspects of current Astronomical techniques.
To provide students with opportunity to have hands on experience on different astronomical projects.
To disseminate information of the ongoing Astronomy projects and job opportunities in the field of Astronomy.
Ms. Videsha Bansal
Teaching Associate
Centre for Communication & Critical Thinking
JK Lakshmipat University
| | |
| --- | --- |
| | |
| | piyushsolanki@jklu.edu.in |
| | ishitaagarwal@jklu.edu.in |
| | aadityasaxena@jklu.edu.in |
| | lakshyachoudhary@jklu.edu.in |
Common Rules and regulations:
Our club believes that others should be treated in the same you want yourself to be treated. So, all club members should be respectful to others.
All club members are advised to attend all the club's meetings.
Any member can propose a new activity or participate/host an existing activity.
The evaluation component in any activity, if present, must be free from any unfair means.
Faculty mentor may intervene and has the right to terminate the Executive Committee or individual committee member, if any irregularities are found at any time, for proper execution and enhancement of the club.
For every event, each member of the club would be equally liable for any mishappening.
To become a member of this club, you need to attend at least 3 events.
If any member does not attend at least one event per month, he/she would no longer be a member of the club.
Forms will be circulated before every event for participants.