BBA at JKLU is a cumulatively designed new era study programme aimed to create future global leaders for business and society. The pedagogy is designed to help the students benefit from the lived wisdom of professionals, industry-specific courses and active engagement with the world of business. JKLU Institute of Management offers a contemporary B-school environment with a curriculum benchmarked by leading institutions in the field. The programme is highly rigorous and focused on contextual academic theories to introduce and explain present day business scenarios.
"Many of our BBA graduates turn entrepreneurs and go on to create business ventures and startups in a multitude of fields."
Conceptualised and created by eminent scholars and industry stalwarts, this interdisciplinary diploma is a unique blend of courses in mathematics, programming, economics, political science, academic writing, and critical thinking. Offered under the aegis of Lakshmipat Singhania Education Foundation, the programme helps students to develop core skills for careers in emerging fields of data, policy, economics, and much more.
"PGDAR at JKLU offers Intense learning, valuable career guidance, and 100% placement assistance besides providing a bridge to higher learning."
PhD programme at JKLU offers intensive education in Engineering and Management to help students realise their academic goals and pursue professions of their choice. Research in interdisciplinary areas in academics and exploration of innovative industrial practices during the programme offer an environment of scholarship and collaborative learning to students. Developing new perspectives of analysis and interpretation through critical examination and sound judgement open new realms of innovation and research for them.
"Research forms the cornerstone of JKLU where scholars continue to seek answers and create knowledge."
Institute of Management at JKLU, Jaipur offers highly relevant, industry ready and cutting-edge programmes in the management discipline at undergraduate and postgraduate levels. A contemporary curriculum that is delivered by the best-in-class faculty using continuing pedagogical innovations makes its programmes, the most sought-after ones, for all budding managers. The choice of concentrations offered by the Institute across various domains allows you to choose and specialise in your own area of interest and at the same enhance your employability skills in a chosen domain. All courses offered by the Institute are based on strong theoretical foundations with right blend of new-age technologies and interdisciplinary inputs.
The prime focus of the Institute is on overall development of its students and the co-curricular and extra-curricular facilities, besides the curricular aspects, makes it possible for the students to witness a visible change in themselves as they move ahead in the programme. Strong industry connect and a great alumni network provides excellent opportunities to our students for internships and placements. We believe that with a right mindset and a never-ending quest to learn you are bound to be successful in all walks of life.
I welcome you all to join this Institute and embark on your journey towards excellence.
~ Dr. Ashwini Sharma, Acting Director, Institute of Management, JKLU
Global Academic Collaborations
For Curriculum Design & Development, Student & Faculty Interactions, Student Study Abroad Options, Internships.
JKLU offers generous scholarships and financial assistance to students based on performance and need.
The University also offers ample opportunities for on-campus assistantships and part-time jobs to exceptional students.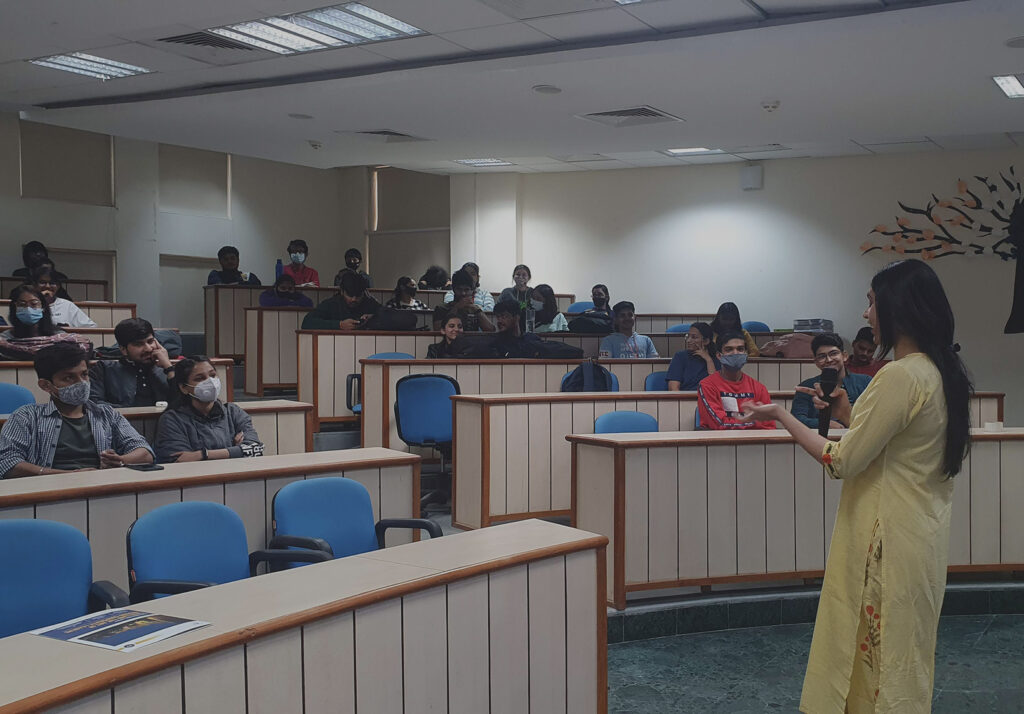 JKLU offers Early Admissions to students appearing for their Class XII Board Examinations in 2022. The EAD process is particularly suitable for those who are clear about pursuing engineering, design, or management studies.


There are limited seats for Early Admission Mode. The admission will be granted on a first-come-first-served basis to only those applicants who meet all the admission criteria as defined for respective admissions.
Benefits of Early Admission
Early Admissions ensure that the student can be stress-free and can focus on their Class XII Board examinations.
EAD students get financial benefit in terms of their acceptance fee paid, which is half as compared to those who take admissions in regular format. JKLU offers limited number of meritorious scholarships on a first-come-first-served basis. EAD students have additional advantage of securing these scholarships by early admission offer acceptance.
For more information on the programmes and admissions: 
Prefer a phone call? 
Get on a call right away with one of our Admissions Counsellors.